Devenney Group, a leading architecture firm specializing in healthcare facility design, made a move from a midcentury modern building in downtown Phoenix, where the company occupied 18,000 square feet, to the 5th floor in Camelback Tower in downtown Scottsdale. In considering a new space, the management team gave a lot of thought to its employees' needs and how to create an environment that could best accommodate the organization's new ways of working. Devenney president Stephen Stack explains, "With most of our team now still working hybrid schedules post-pandemic, we took the opportunity to rethink our offices and design a space that appeals to our current and future team members." The company "right sized" to 12,000 square feet overlooking Camelback, adjacent to Scottsdale Fashion Square. 
Project management takes on a challenge
LaunchPM was enlisted by building owner West Coast Capital Partners and property management company, Avision Young to oversee and implement the tenant improvement plan. The 5th floor was gutted to remove most of the existing walls; only retaining the core area for IT equipment storage and plumbing. LaunchPM coordinated and managed the construction schedule and the work of multiple vendors. Two of the biggest challenges the team had to overcome were getting the construction done in an occupied building and navigating supply chain issues. On the 4th floor, just below the new office space, is a recording studio that produces multiple podcasts and radio shows daily. For the shows to be taped without heavy background noise, construction was not allowed during recording hours. The other major challenge was the tight timeline, which was further impacted by the noise issue. Construction got started in July, and Devenney Group had to be out of its previous office space by November. LaunchPM had the space ready, with technology up and running for move-in in early December of 2022.
Form and function for a sustainable future
The 40+ employees on Devenney Group's Arizona team continue to work a hybrid schedule that requires everyone to come into the office a minimum of two days a week. All employees must be in the office on Tuesdays for a weekly collaboration and training day. The remainder of the week in-office is at the discretion of the employee.
The design features an open floor plan with both large and small conference rooms and lounge areas for meetings. The height-adjustable desks come equipped with computer screens and cables, a chair and a storage cabinet.  Outside of a private office for accounting and HR – no one has an assigned space.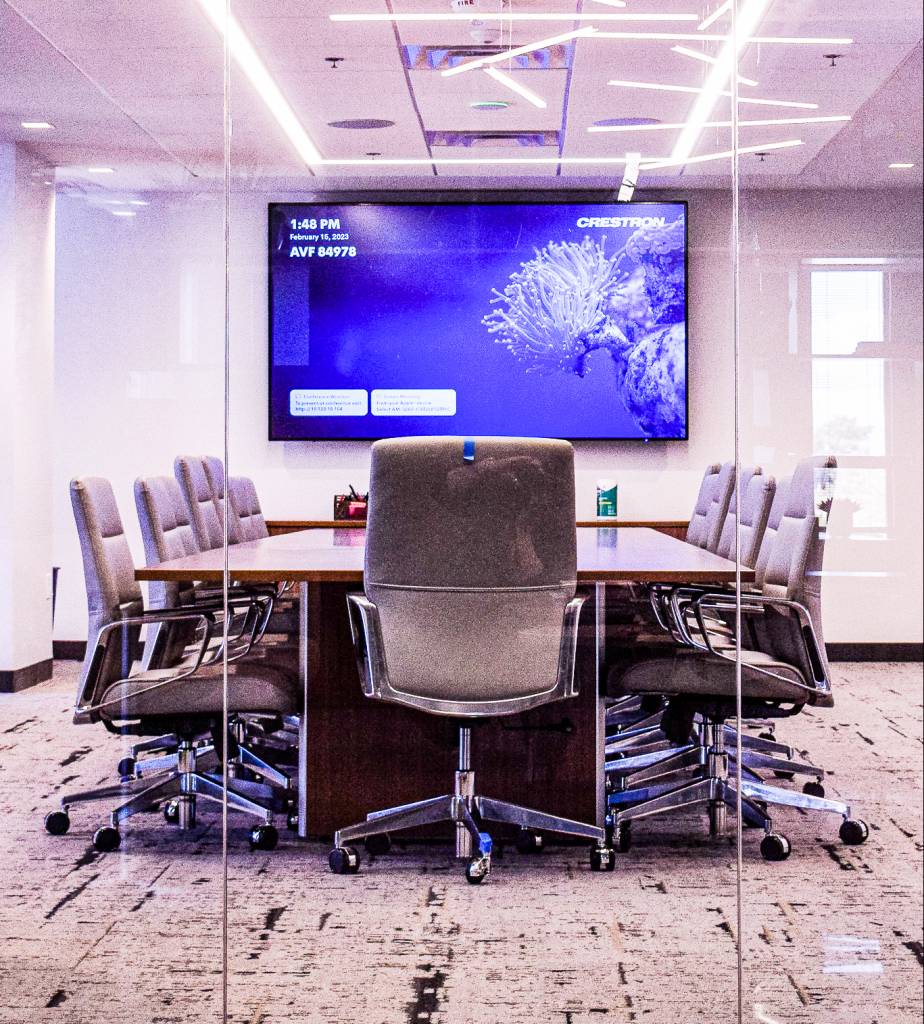 The open layout allows the flexibility to add desks or rearrange configurations as needed.
Employees use an app to reserve a desk for the day, as well as any of the six huddle rooms for privacy and silence. A large open kitchen is fully stocked with snacks and drinks, and every employee has a locker to store their computer bag, gym clothes or anything else they may need on a given day.
The northwest section of the 5th floor is named The Gallery and serves as a multi-purpose space for large group training, dining and activities. The space off the kitchen includes room for dining and games such as ping pong and cornhole. Couches are situated around a big-screen TV for lounging and video games. Topping it all off is a golf simulator for employees to work on their stroke, get their creative juices flowing or relieve a little stress. "The idea is to design a space where people want to come to work and connect; a comfortable place away from home," explains Stack. 
Sustainable design
Employees and visitors are welcomed off the elevators into the company lobby featuring wood-slatted wall coverings that lead guests through glass doors on either side. Wood detailing carries visitors' eyes along to defined areas of the space and polished concrete floors are coupled with carpeting to absorb sound. More sustainable and energy-efficient features were added to the 5th floor, such as LED overhead lighting and motion detectors that turn lights on and off when a room is entered or exited.
The new office space for Devenney Group serves as an example of workspaces for the future. If your company is looking to make a move and needs the support of an experienced project management team to navigate the details and facilitate solutions, contact LaunchPM.