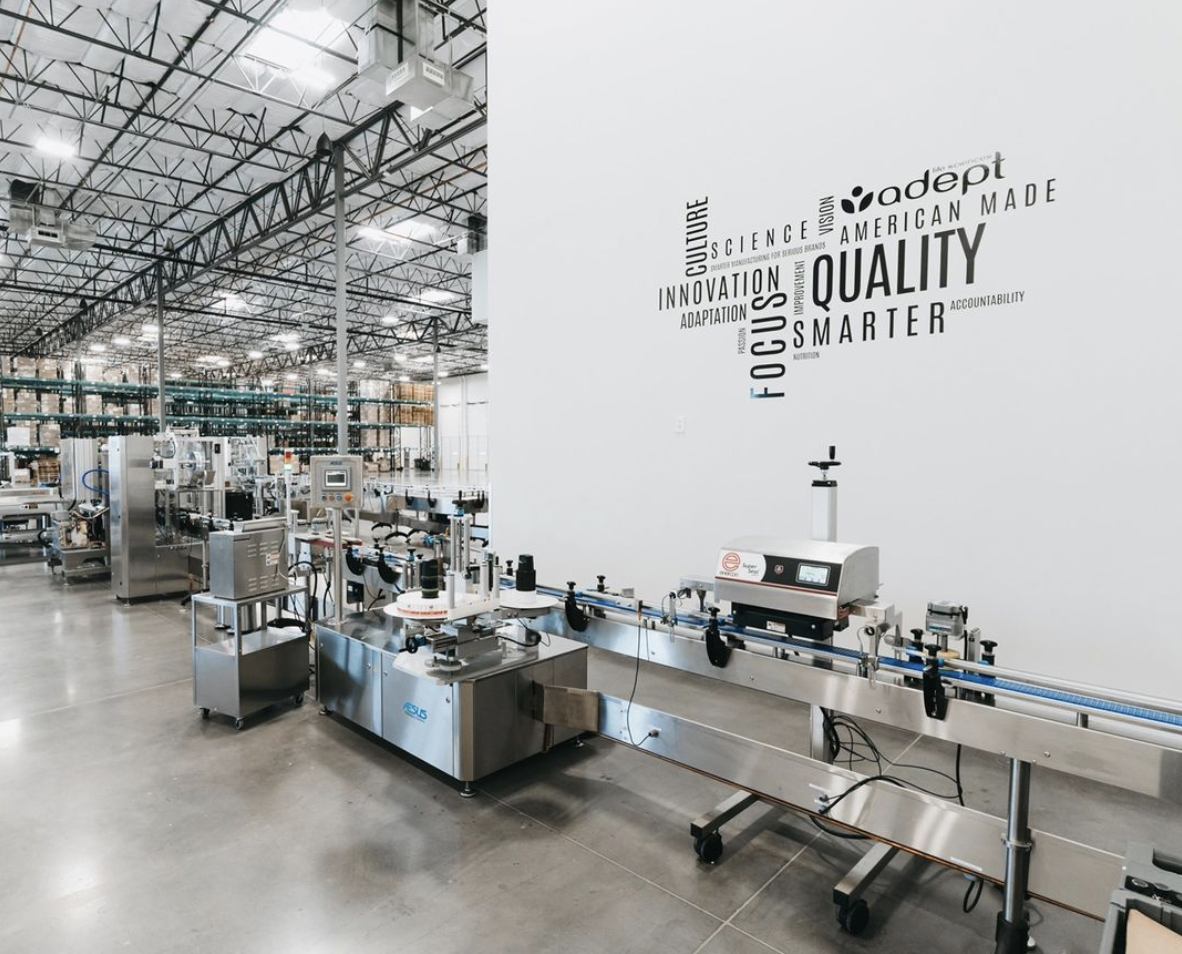 November 22 2021
LaunchPM Manages Buildout of 70,000 Square Foot Manufacturing Facility
When Adept Life Sciences, a manufacturing company specializing in nutraceuticals was looking to expand its production, they needed additional space to house manufacturing, warehousing, and shipping. The LaunchPM team worked with Adept to transform a 70,000 square foot shell into a fully operating manufacturing facility for the company's new line of liquid and gummy products. The project took a little more than 12 months to complete.
The new facility includes a small research and development lab, an area for liquid production line, bottling, labeling and an area for shipping. The LaunchPM team worked directly with the Adept team to determine what was needed to design a space that would accommodate Adepts various operational needs.
Pre-Construction to Completion
Key areas of production space needed to be comparable to a clean room, comparable to what you would find in a hospital or medical facility. It also had to accommodate specific manufacturing equipment, which requires access to power to operate properly. In addition, the space needed humidity and temperature control. As the project management team, LaunchPM gather all the necessary information to identify and understand the functional and physical necessities. The Project Manager is also responsible for putting together and managing the team of trade partners and vendors need to buildout the space. For this project, LaunchPM hired an architect and engineer to help map out the space design and to ensure the specific requirements for production would be incorporated to set-up the facility for successful operations.
Features and Function
The state-of-the-art manufacturing facility has lighting and temperature controls, high-speed roll-up doors for shipping access and epoxy flooring. In addition to the R&D lab and production and shipping areas, there is an employee lounge, along with an outdoor patio that is accessible through collapsible doors for employees to enjoy on breaktime. 
Taking a 70,000 square foot building shell to a fully built manufacturing operation, required specific considerations for all the equipment Adept needed to operate properly for producing liquid and gummy products. In addition to understanding how the equipment needed to be laid out within the space, each piece of equipment has different power requirements, which must be accommodated and supported with the right power panel set up. 
The manufacturing and product process must be GMP compliant to meet the standards for nutraceuticals and health product lines, that Adept has become known for.
Making it Work
Coordinating all the details is the job of the Project Manager. It begins with identifying and planning all the components that must go into a space and then bringing together the team of trade partners to execute. From proper permits to code requirements, IT and AV needs to furnishings and signage, the LaunchPM team takes care of it all. While every project has multiple moving parts, managing the process entails one common denominator – a lot of communication, tracking and follow-up. 
Today this Arizona based company that specializes in the manufacturing of dietary supplements, and nutraceuticals is ready to operate out of its newest facility. If you or a business you know needs an experienced and knowledgeable project management team, contact us today.